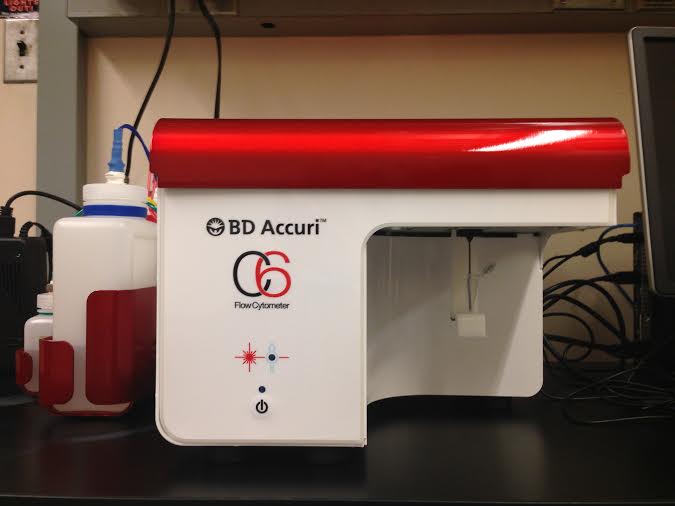 Want to build a panel on the Accuri C6 using FluoroFinder?  Click here!
The BDAccuri C6 is the flow cytometer (analyzer) in the flow core.  The Accuri is a small, bench-top cytometer housing 2 light scatter detectors, 2 lasers, and 4 fluorescence detectors that enable the detection of up to four fluorochromes.  Alignment and detector voltages are optimized (pre-fixed by BD) and are not adjustable on this instrument; thus, fluorescence performance is standardized and detector voltage adjustment is not necessary.
The Accuri C6 Plus is equipped with the followeing lasers:
The 488nm blue laser (20mW) measures forward scatter (FSC) and side scatter (SSC).  This laser also measures the following fluorochromes on three of the four available detectors:
| | | |
| --- | --- | --- |
| Detector | Filter | Fluorochrome(s) |
| FL1 | 533/30 | FITC, GFP |
| FL2 | 585/40 | PE, PI |
| FL3 | 670LP | PerCP, PE-Cy5, PE-Cy7 |
The 640nm red laser (14mW) measures the following fluorochrome(s) using the final detector:
| | | |
| --- | --- | --- |
| Detector | Filter | Fluorochrome(s) |
| FL4 | 675/25BP | APC |
Please note: It is possible to measure some other fluorochromes using this setup.  If you are interested in using a fluorochrome that is not listed here with the Accuri C6 Plus, please contact the operator.
Click here to view the instrument manual.
Click here to view the C6 software user guide.
Click here to view the BD Fluorescence Spectraviewer.
Please note that while the SpectraViewer is a great tool for estimating fluorescence spillover and designing multicolor flow experiments, it is still necessary to discuss the choice of all fluorochromes with the operator to ensure that they are compatible with the instruments in the flow core.  Please contact the operator if you are using any fluorochromes not listed in the detector arrays described above or if you have any questions.